NOTICE OF POSTING CHAMPAIGN AUTOMOTIVE LLC
An application concerning the employment of one H-1B alien worker for the position of Sales Engineer has been filed with the Department of Labor. Upon approval of the LCA an H-1B visa petition will be filed with the Department of Homeland Security. This Notice of Posting will be posted for ten consecutive business days (Monday through Friday).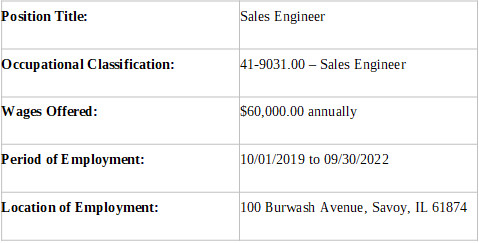 This notice is provided in compliance with 20 CFR §655.734. "Complaints alleging misrepresentation of material facts in the labor condition application and/or failure to comply with the terms of the labor condition application may be filed with any office of the Wage and Hour Division of the United States Department of Labor."
This notice is being provided to workers in the place of intended employment by the following means:
Electronic notice, by providing electronic notification to employees in the occupational classification (including both employees of the H-1B employer and employees of another person or entity which owns or operates the place of employment) for which H-1B nonimmigrants are sought, at each place of employment where any H-1B nonimmigrant will be employed.
This notice has been posted on the company website from 4/28/2020 – 5/12/2020. The LCA is available for public inspection at the employer's principal place of business in the U.S. located at 100 Burwash Avenue, Savoy, IL 61874.